Medium- to Long-Term Vision and Medium-Term Management Plan for FY2022–FY2024
Medium- to long-term vision
Achieving growth by supporting a sustainable society with specialty products and services
Through the lens of sustainability, we take a new look at the specialty products and services which harness our unique strengths, and aim for growth as a company to support a sustainable society through providing solutions to challenges in the wide range of fields we engage in.
Since our founding, we have focused our activities on "making effective use of natural materials" under our management philosophy of helping to enrich our society through healthy, enjoyable foods. We established our medium- to long-term vision in light of these philosophies and the shifting business landscape.
Business landscape and challenges
The key challenges in our business landscape are the changes in demography, climate, and lifestyle. We are facing even more uncertainty going forward, making it difficult to predict the future. We realize that we need to build a new corporate culture, one that is not an extension of the conventional.
Positioning of medium- to long-term vision and medium-term management plan
To achieve sustained growth in the ever-changing landscape of today, we need to make strategic management decisions with an eye to the future.
We, therefore, established a 9-year, medium- to long-term vision from FY2022 to FY2030, with the first 3 years positioned as a period for our medium-term management plan to strengthen our financial base and make investments toward future growth.
Basic Policies

FY2022–FY2024 Medium-Term Management Plan
Earnings Target Forex assumption: JPY116/$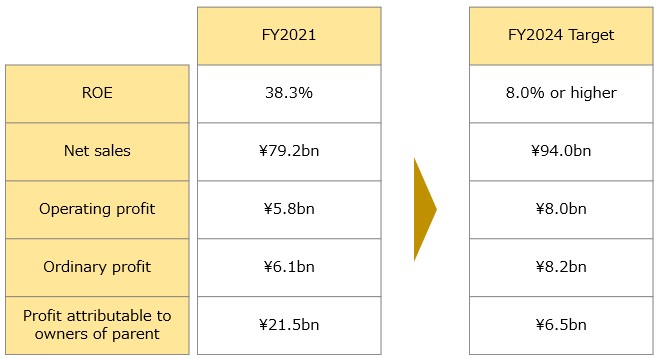 Overview of basic strategy
Strengthen management foundation (governance)
Have an outside body evaluate the effectiveness of the board of directors
Strengthen and promote a succession plan
Reduce cross-held shares
Establish an organizational structure to strengthen cooperation between the head office and domestic and overseas subsidiaries
Strengthening our Audit Division
Enhance accurate and easy-to-understand disclosure of business and nonfinancial information
Accelerate expansion in Asia and North America
Growing our business especially in food improving agents for bakeries, chemical improving agents, and North American pork extract.
Raise production capacity at overseas plants
Delve into the domestic market, enter new domains
Developing new products for markets adjacent to our existing products
Approaching existing customers with products they do not yet handle
Focus on the elderly care and prepared meal markets
Strengthen proposals of health care products such as vitamins, microcapsules and raw material for functional foods.
Propose products for food-loss reduction
Research for revitalizing the seaweed cultivation industry
Expand products for biomass plastics and biodegradable plastics
Transform into a production system that supports global supply chain
Pursue sustainable management
GHG emissions
Environmental-load reduction
Promote diversity and inclusion
Promote employee-health management
Capital & Financial Strategy
Cash Allocation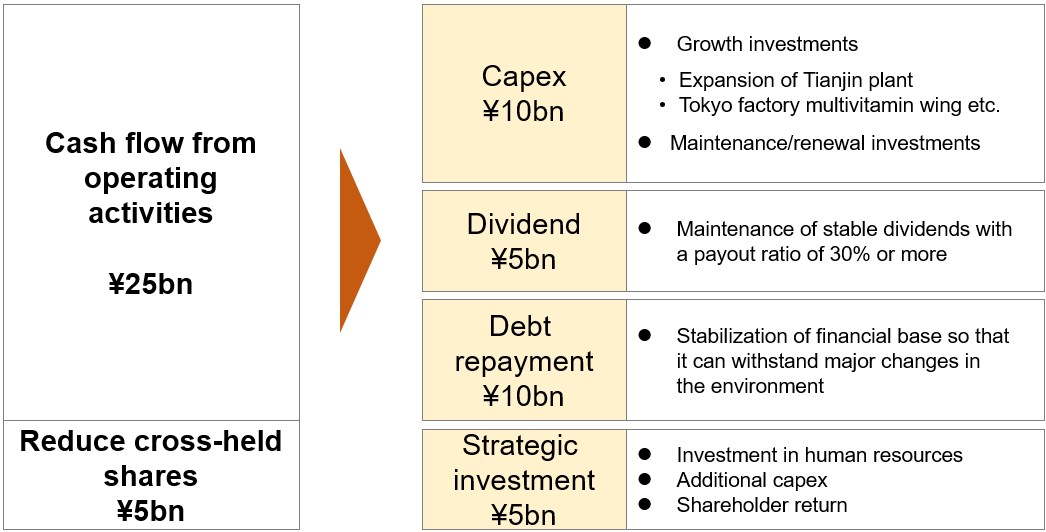 Shareholder return
Maintenance of stable dividends with a payout ratio of 30% or more
Reduce cross-held shares
Reduce cross-held shares to less than 20% of consolidated net assets at end-FY2024
Cancellation of treasury shares
Cancellation of 7 million shares out of approximately 7.7 million shares in May 2022
Please refer to the financial results presentation for information on the progress of the medium-term management plan.