Riken Vitamin's Materiality
At Riken Vitamin, we contribute to the sustainable development of society through our business activities based on our fundamental CSR policy. To achieve our corporate philosophy of contributing to better human health, nutrition, and society, we identified key themes of our CSR activities to place a particular focus on in 2019.
Through these engagements, we contribute to the sustainable development goals (SDGs) corresponding to our key themes.
Key theme identification process
| | |
| --- | --- |
| STEP1 | Identifying social challenges |
We prepared a list of key social challenges for Riken Vitamin on the basis of external guidelines such as ISO26000 and SDGs.
| | |
| --- | --- |
| STEP2 | Judging the importance of various elements from internal and external perspectives |
We looked at the social challenges in Step 1 and, in our Environmental Meeting, evaluated their importance from the two parameters of "relevance to our business" and "expectation from society" in relation to the "impact (opportunities/risks) of Riken Vitamin."
| | |
| --- | --- |
| STEP3 | Identification of key themes |
We organized the information on the themes identified in Step 2 and identified those which were deemed of high importance to both society and Riken Vitamin as our key themes.
Key themes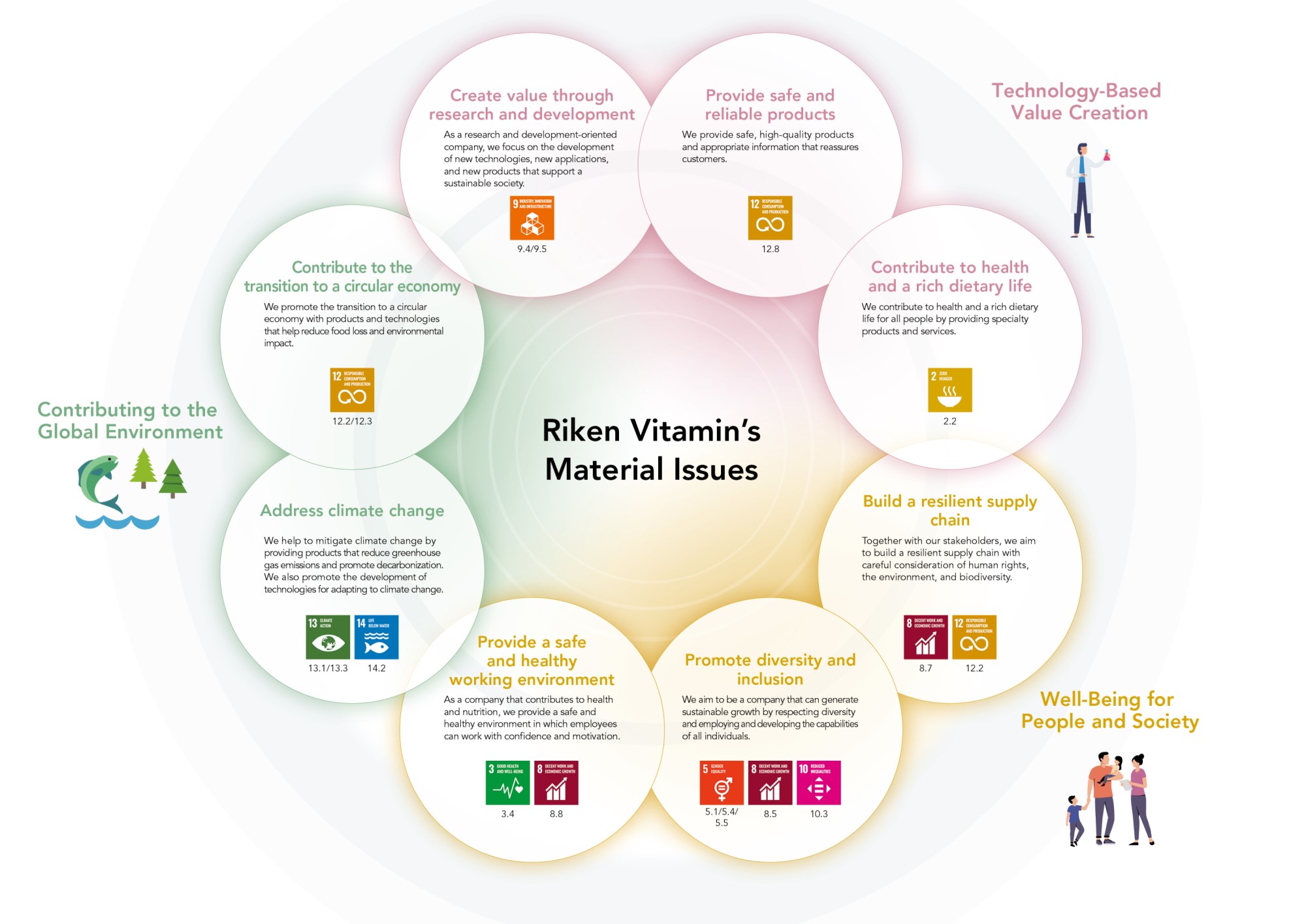 Key themes
Relevant SDGs
Contributing through our business
Consumers
We provide appropriate information and deliver products that are safe and trusted. We also exercise appropriate control of our customers' personal information.

9.4

12.4
12.5

14.1

Pollution prevention
We strive to prevent pollution of our global environment by reducing waste and executing process control.
Environmental consideration
We fight global warming and climate change through efforts such as reducing greenhouse gas emissions.
Company-wide contribution
Diversity and inclusion
We respect diversity and create a workplace that is easy and rewarding to work in.

5.1
5.4
5.5

8.5

9.5

10.3

Job satisfaction
We will maintain and promote a safe and healthy work environment where employees can be physically and mentally healthy and motivated.
Research and Development
Promote the development of new technologies, new applications and new products.